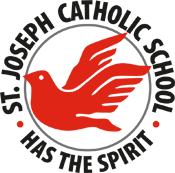 SCHOOLWIDE SIGNIFICANT ACCOMPLISHMENTS
according to the Western Catholic Education Association Report of Findings
Catholic Identity is infused throughout all aspects of the school, including curricular and co-curricular offerings
Enriching prayer, service, and worship opportunities are provided to students and staff throughout the school day and Liturgical seasons to grow in their Catholic faith
Creation, implementation, and assessment of the new Schoolwide Learning Expectations are embraced by the school community
Focused efforts on helping the poor through school-wide service projects
Dedicated, supportive, and collaborative staff and administration focused on school improvement and increased student learning
Assessment of student growth is used to make curricular changes, modify teaching and learning, and provide additional academic support as needed through intervention programs
Reading and language usage test score averages are at or above state and national norms
"St. Joseph Catholic School is a collaborative community committed to school improvement and student growth. The administration, faculty, parish, and parents clearly support the faith, excellence, and spirit of service for all students. The school has a clear grasp on both the strengths and areas of growth as a diocesan school and will work creatively to continue to provide a unique and quality Catholic education for their students. St. Joseph Catholic School is a place where Catholic Identity permeates every corner of the classroom and across all curriculum areas. The community of Wenatchee is blessed to have this ministry in their midst that brings solid and long lasting traditions to their youth."
TOP 10 REASONS PARENTS SEND CHILDREN TO A CATHOLIC SCHOOL
Catholic tradition and academic excellence in a community grounded in a common faith.
Balanced curriculum that includes art, music, and fitness.
Emphasis on moral development, service to others, and leadership skills.
High standards for student achievement with the support to succeed.
Strong preparation for further education.
Safe and disciplined environment.
Exceptional faculty who help students reach their highest potential.
Family involvement in the faith formation and education of their children.
Individual attention in a caring, fun community.
Good stewardship of resources.
WELCOME TO ST. JOSEPH CATHOLIC SCHOOL
St. Joseph Catholic School began serving the Wenatchee Valley and surrounding areas in 1955. In the beginning, four sisters of St. Joseph of Peace instructed a total of 230 students in grades one through four. St. Joseph School offers a complete curriculum that meets Washington State Common Core Standards and Grade Level Expectations. St. Joseph Catholic School graduates continue to excel in the local public system. Nearly all families contacted in graduate surveys report their children are maintaining honor role status. Middle school teachers routinely report they can tell St. Joseph School students by their behavior, discipline, and academic performance.
The mission of St. Joseph Catholic School is to use the knowledge of God's love to educate the whole child by instilling strong moral values, respecting and serving our diverse community, and achieving academic excellence for future success.
The philosophy of St. Joseph Catholic School is consistent with the Catholic tradition of the gospel message. St. Joseph Catholic School is a close community whose members help each other grow spiritually, intellectually, and socially in a caring atmosphere. The school acts in partnership with the parents as the first and primary educators of the children. Each child is treated with the dignity and importance bestowed upon him/her by our Creator. While each child is valued as an individual, students are also taught the importance of being responsible, productive, caring members of the broader community.
SCHOOLWIDE LEARNING EXPECTATIONS (SLES)
Faith
ENGAGE in Catholic Practices and Prayers
EXHIBIT Gospel Values, behaving in kind, generous, and fair ways
SHOW Love for others, self, and all of God's creation
Excellence
PERSEVERE to achieve Personal and Academic Goals
ACCEPT Responsibility and Solve Problems
RESPECT others and display Good Stewardship
Service
SERVE Others
DEMONSTRATE a spirit of Generosity
PARTICIPATE in Service Projects
Saint Joseph Catholic School | 600 St. Joseph Place, Wenatchee, WA. 98801 | 509-663-2644
© 2020-2022 St. Joseph Catholic School

Designed by Winning Web Works